NEWS & EVENTS
Senator Kelly Ayotte visits Windmill on June 2nd, 2011.
See the press release for the full story.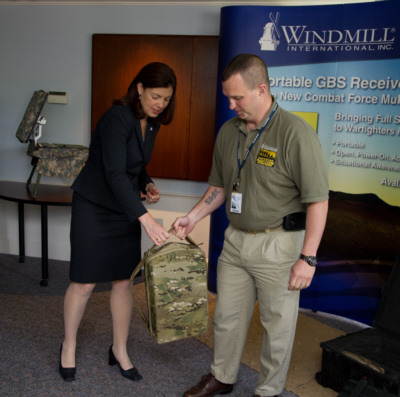 Above, Jay Davison, Product Support Manager, demonstrates Windmill's KA-10 Portable Global Broadcast Service (GBS) Portable Receive Suite's low weight and compact carry capability to Senator Ayotte.

Contact us at info@windmill-intl.com for more information on Windmill's News & Events.
Providing Excellence in Professional Services to the AFLCMC for more than 25 years.

NATO's AWACS Support Contractor of Choice Since 1988
Windmill International, Inc. · 12 Murphy Drive, suite 200 · Nashua, NH 03062 · Phone: 603-888-5502
© 2011-2022 Windmill International, Inc. ·