PROFESSIONAL SERVICES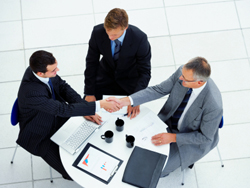 Windmill is a full service Technical and Professional Services firm, uniquely experienced to meet the present and future requirements of your organization. Windmill was founded in 1988 to provide USAF C2 Acquisition Management Services to the Electronic Systems Center's NATO's Airborne Warning and Control System ( AWACS) Program. To this day, Windmill holds a direct commercial contract with NATO to provide AWACS acquisition support to the Air Force Life Cycle Management Center (AFLCMC) and we have been NATO's AWACS Acquisition Management Contractor of choice for more than 28 years.
Throughout our distinguished 28 year history, Windmill has increased our services beyond NATO AWACS to other key federal programs including the Transportation Security Administration's (TSA) Specialized Security Training (SST) Program, multiple FMS programs for the Deputy Under Secretary fo the Air Force for International Affairs, and support for the US Department of Interior Federal Consulting Group, carefully honing a unique cadre of core competencies. Windmill is always looking toward the future and we are excited to pursue different and new opportunities.
Windmill's customers have grown to count on our high level of expertise and integrity and it is a service we are proud to consistently provide.
View our Contract Services brochure

Contact us at info@windmill-intl.com for more information on Windmill's Professional Services.
Providing Excellence in Professional Services to the AFLCMC for more than 25 years.

NATO's AWACS Support Contractor of Choice Since 1988
Windmill International, Inc. · 12 Murphy Drive, suite 200 · Nashua, NH 03062 · Phone: 603-888-5502
© 2011-2022 Windmill International, Inc. ·